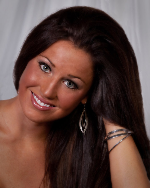 Want to donate with a standard paper check? Click Here to download the donation form to be sent with your check.
Hi, it's me Megan Ervin.
You probably already know that I'm very involved with the Miss America Organization, but you probably didn't know that I'm also working closely with Children's Miracle Network Hospitals to raise funds for local children's hospitals. The Miss America Organization has teamed up with Children's Miracle Network Hospitals to help raise money for children's hospitals in communities throughout the United States. The money I raise will benefit both Children's Miracle Network Hospitals and the Miss America Scholarship Fund.
I invite you to help me touch the lives of sick and injured children by making a secure donation today by clicking on the Donate Now button to the left. If you want to see the impact of your donation and who it will help, take a moment to view some of Children's Miracle Network Hospitals incredible miracle stories by clicking here. These are just a few stories out of millions of kids who are helped by Children's Miracle Network Hospitals each year.
I am very excited to continue the promotion of my personal platform as well. My platform is titled the "Heptathlon of Healthy Habits". An overall lack of knowledge about health, wellness and fitness and the lack of healthy bodies is a world wide issue that currently stands. I began work with this program as well as other fitness programs over five years ago. The fitness and health world has been my passion since I was a little girl and this organization has given my a chance to advocate my passions throughout the enitre state!
Thanks so much for your support and for helping me make miracles happen!